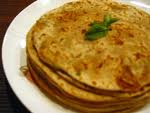 Region : Maharashtra
Preparation Time :30minutes
Serves For :2
Ingredients :
Potatoes Boiled : 4(big)
Turmeric Powder : 1/2spoon
Green Mirchies : 8(or)10
Curry Leaves,Coriander Leaves,Poodina Leaves : some
Channa Dal : 1spoon
Jeera : 1/2spoon
Mustard Seeds : 1/2spoon
Onion : 1
Atta : 1/2kg
Water : some
Gingergarlic Paste : 1spoon
Garam Masala Powder : 1/2spoon
Salt : to taste
Oil : for make the dish & parantha
Method of Preparation :
For atta dove: Take a bowl and in this add atta,salt in this add some water to make a dove. And keep aside for 30 minutes.
For aloo curry: take the potatoes remove it's peel, and next cut the onions,mirchies,potatoes. Take a kadai in this pour 3tspoons of oil when oil is heated in this add jeera,mustard seeds,channa dal,mirchies,onions,curry leaves,poodina leaves fry it for 1/2minute when onions come golden yellow colour in this add some turmeric powder. Next in this add potatoes and finally add some salt fry it for 10 minutes. When aloo curry is finished in this add some coriander leaves,garam masala remove it from the stove.Now the curry is finished.
For make the paranthas: take a pan on to the stove make the two roties in this stuff the aloo curry and when pan is heated add 2spoons of oil in it and make the paranthas in it. When aloo paranthas is ready take it in a plate and serve it with tomoto sauce.